New York News
It is "urgent" that people watch We're Here to understand how hatred towards the LGBTQ community can spread if left unchecked, and what can be done to tackle it, show co-creator Stephen Warren has told Newsweek.
The Emmy-winning reality series sees RuPaul's Drag Race icons Bob the Drag Queen, Eureka and Shangela travel to small towns across the country to spread love and help residents of the community, with the week-long trip culminating in a one-night-only drag show that the queens put on for the town.
But Season 3 of the HBO show proved more challenging to make than previous seasons, creators Warren and Johnnie Ingram and director Peter LoGreco explained to Newsweek, because of how some people treated them and the queens during filming.
'We're Here' Creators Explain Why Watching Show is 'Urgent' Amid LGBTQ Hate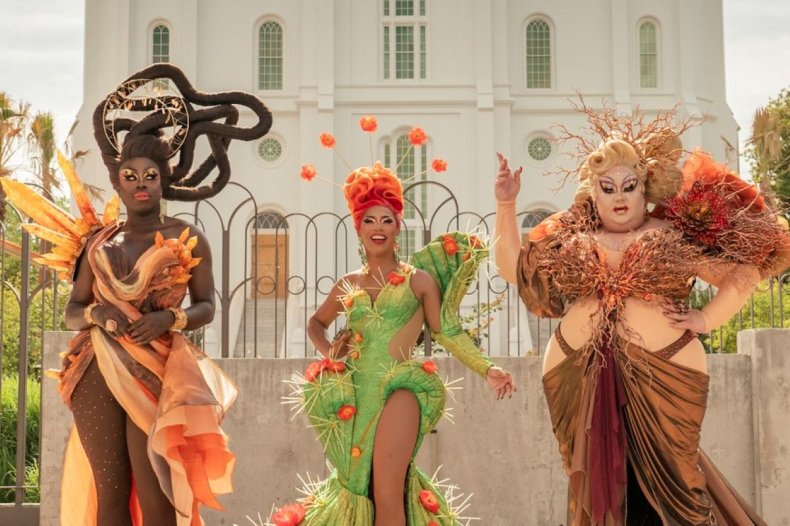 In places like Granbury, Texas, and St. George, Utah, the show's creative team and the queens were subjected to abuse both online and in-person.
One instance saw people call Bob "an abomination" while walking through the town in search of ice cream, with one person even claiming that drag queens groom children. In another, the drag queen story hour that the team had prepared with Shangela had to be canceled because of violent threats a person had made to the establishment it was going to be in. Luckily, Shangela was able to host an impromptu story hour at another location.
In Utah, some people also attempted to have the team's permits pulled so that they couldn't perform their drag show at the end of the week, but thanks to the collective efforts of the LGBTQ community and allies in the town the show was saved.
It was moments like this, both the bad and the good, that proved to the creators that We're Here is necessary viewing for everyone.
"The world really turned upside down since the time we started filming the show in 2019 to this year, things changed in a way that we never could have expected and it hasn't been in a way that has been positive," Warren explained.
"What's happened is that the first couple of seasons we had some resistance, there was definite resistance, but the resistance was something that I think people still felt slightly uncomfortable expressing. Now, there's no holds barred.
"There are people that will say vile, horrible, dreadful, violent things to us and to the queens and there's no compunction about it."
"We're going into places now [that] at the same time there's enormous amounts of love and enormous amounts of courage, and enormous amounts of gratitude for us coming, and, for us, we have gratitude learning about people who are living lives in sometimes very hostile places," he added. "But it's a different world, so we walked into that but we didn't realize exactly how much it was going to be a theme for the season.
"It's very sad, but this season is urgent. This is the season that if people haven't discovered the show thus far, people need to discover the show, because it shows what can happen to America when small-minded, bigoted, people who want to expound hate, rather than even opening their minds to any sort of rationality, can take over times. That's what the season is about."
Ingram concurred, adding: "In the first two seasons you would see a little online, in these Facebook groups and chatter online, but what has seemed to have happened is that what was happening online is now actually happening [in real life], people are now doing it out in the open and being more aggressive.
"Particularly in Texas where even having a drag story hour ignites real tension wi