New York News
For francophones outside Montreal, it was about protecting their culture, language and identity.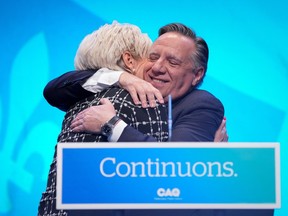 The Coalition Avenir Québec won its second majority mandate on Monday, the result announced barely 10 minutes after polling stations closed. This was, as I have written, the least surprising election we've had in a long while. But it may not be the last. In fact, I'm starting to think we may have a second Duplessis on our hands.
For the younger set: Maurice Le Noblet Duplessis — people sure knew how to give kids great middle names in those days, like U.S. President Harry Truman whose middle name was the simple letter S — mais, revenons à nos moutons. Maurice Duplessis was a dominant figure in Quebec politics, premier between 1944 and his death in 1959, plus three years in the 1930s, because he knew exactly how to appeal to white, Catholic, French-speaking voters who weren't from downtown Montreal.
Ottawa Citizen Headline News
Sign up to receive daily headline news from Ottawa Citizen, a division of Postmedia Network Inc.
By clicking on the sign up button you consent to receive the above newsletter from Postmedia Network Inc. You may unsubscribe any time by clicking on the unsubscribe link at the bottom of our emails. Postmedia Network Inc. | 365 Bloor Street East, Toronto, Ontario, M4W 3L4 | 416-383-2300
Premier François Legault is, like most pure laine Quebecers, culturally but not especially religiously Catholic. He likes reading Quebec books. If he had time he'd watch Quebec TV shows. He speaks good enough English to get by, but he has none of the elegance of Jacques Parizeau and his PhD from the London School of Economics, or the ease with which journalist René Lévesque could communicate anything to anyone, including vividly describing to radio listeners what he saw as he accompanied American soldiers who liberated Dachau. Legault, evidently, doesn't care what he sounds like in English provided he's understood. That's working well for him.
He's from a modest background, played shinny like all the other kids, lived in a normal house in a normal francophone neighbourhood. He made his name and his fortune co-founding Air Transat, a charter airline that offers Quebecers discounted trips to their favourite destinations in exchange for less leg room or other airborne comfort. Quebecers evidently don't mind being packed like sardines if it saves them enough money. Legault understood that and made a fortune off it.
He was first elected in 1998 with the Parti Québécois of Lucien Bouchard and served as industry and education minister. That ended in 2008 with the return of the provincial Liberals under the same Jean Chare