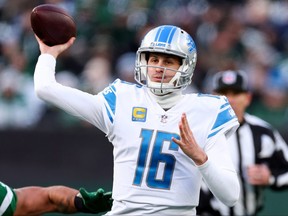 BEST BETS
DETROIT LIONS (7-7) AT CAROLINA PANTHERS (5-9)
Your Midday Sun
From our newsroom to your inbox at noon, the latest headlines, stories, opinion and photos from the Toronto Sun.
By clicking on the sign up button you consent to receive the above newsletter from Postmedia Network Inc. You may unsubscribe any time by clicking on the unsubscribe link at the bottom of our emails or any newsletter. Postmedia Network Inc. | 365 Bloor Street East, Toronto, Ontario, M4W 3L4 | 416-383-2300
LINE: Detroit -2.5
CHEWABLE: Are Lions the new "America's Team?" Everyone loves them, everyone loves their coach. They have an exciting offence that is currently ranked fourth-best in the NFL. Their defence is still 31st in yards and points allowed, but strides are definitely being made. Lions are 5-0 the last five times they allowed 100 or fewer rushing yards, which has been the case in each of their last three games … Panthers are also flashing signs of improvement. They are 3-4 under interim head coach Steve Wilks, and they have won two of their last three. They have a better shot at winning the NFC South than the Lions have of stealing a wildcard spot. But Detroit does have a shot. A slightly altered version of this Lions team will give its city its first playoff win since 1991 someday soon. It's probably not going to happen this season, but these Lions will create more excitement the next couple of weeks … Jared Goff might have the reputation of a QB who crumples in cold weather, but he has been gold the past month and a half, throwing nine TD passes and no picks in six games … Lions are 7-0 ATS in their last seven games. Don't see that streak ending in this cat fight.
TAKING: DETROIT -2.5
SCORE (O/U 44.5); Lions 30, Panthers 27
HOUSTON TEXANS (1-12-1) AT TENNESSEE TITANS (7-7)
LINE: Tennessee -4.5
CHEWABLE: Wanna talk about a player "owning" a team? Derrick Henry owns the Texans. Only four players in the last 72 years have at least three 200-yard, multiple-TD games. LaDainian Tomlinson, Barry Sanders, and Jim Brown each did it three times. Henry has six — including each of the last four times he has played against the Texans. In just 11 career games against Houston, Henry has rushed for 1,254 yards, with a head-spinning average of 6.21 yards per carry on 202 attempts. And Houston didn't have the worst run defence in the NFL all that time, like it does now … Texans have covered (and very nearly beaten the Cowboys and Chiefs) the last two weeks, and I know if I finally decide to back them, that's when they're going to become the Texans we know and love again. But even with Ryan Tannehill (ankle) likely done for the season and Tennessee no longer the favourite to win the AFC, I have to jump on the Titans, who are desperate to snap out of a (four-game) losing streak before it really is too late. They should be able to move the chains at will simply by handing to Henry. The change in quarterback doesn't help the Texans, either, as Tannehill's replacement, Malik Willis, is a better runner.
TAKING: TENNESSEE -4.5
SCORE (O/U 38): Titans 27, Texans 17
INDIANAPOLIS COLTS (4-9-1) AT LOS ANGELES CHARGERS (8-6)
LINE: L.A. Chargers -4
CHEWABLE: Did you hear that the Colts blew a 33-point lead in the second half of their game last week against the Vikings? It was in all the papers. That choke job was the Colts' fourth loss in a row, and should crush any chance Jeff Saturday had of getting the coaching job in Indy next year. You have to wonder if he is actually responsible for the decision to bench Matt Ryan (again) and start Nick Foles — who will have gone 366 days since throwing a pass in the NFL — against the Chargers. They would be better off to dust off Andrew Luck and give him the ball … Chargers have won two in a row and three of their last four. They have held their last two opponents to 17 points or fewer without Derwin James, and they could get their stud safety back for this one … With Jonathan Taylor (ankle) done for the season, Zack Moss and Deon Jackson will split carries for the Colts … If Indy is trailing after three quarters (count on it), it's safe to go to bed. Colts haven't scored in the fourth quarter since Week 10. This spread is a Boxing Day gift.
TAKING: L.A. CHARGERS -4
SCORE (O/U 47): Chargers 33, Colts 14
THE REST
NEW YORK GIANTS (8-5-1) AT MINNESOTA VIKINGS (11-3)
LINE: Minnesota -4
CHEWABLE: Vikings have clinched the division while Giants have an 88 percent chance of making the playoffs, so there should be a little more push from the visitors … G-Men finally appear to have Saquon Barkley back at full strength. In their huge win over Washington on Sunday, he racked up more than 100 scrimmage yards (87 rushing, 33 receiving) for the first time since Week 10. New York's most dangerous weapon should put up even better numbers this week against the Vikings defence, which is decent against the run but still ranks 32nd in yards allowed … It's because of their play without the ball that Vikings can't be considered a serious contender. They have eight more wins than losses, yet their point differential is +2. By comparison, Bills (11-3) are +135 and Niners (10-4) are +128 … Giants have the 30th-ranked run defence, which means you can expect another decent day from Dalvin Cook, who last week also had his first good rushing game in more than a month with 17 carries for 95 yards … Vikings have won the last three meetings and the favourite is 6-0 ATS in the last six, but at least one of those trends comes to a screeching halt here.
TAKING: N.Y. GIANTS +4
SCORE (O/U 47.5): Giants 28, Vikings 27
NEW ORLEANS SAINTS (5-9) AT CLEVELAND BROWNS (6-8)
LINE: Cleveland -2.5
CHEWABLE: Deshaun Watson has won two of three starts and improved each week, but with "Arctic temperatures" expected to hit Ohio, this one should be more about the running game. That works for the Browns, as Nick Chubb (foot) has returned to practice and will play a week after returning to his old self by carrying the ball 21 times for 99 yards in a 13-3 win over Baltimore … Cleveland has averaged 168.7 yards along the ground in its last three wins … Alvin Kamara was also back into triple figure scrimmage yards last week, thanks to 91 yards on 21 carries in a 21-18 win over the Falcons … Four games under .500 with three to play, Saints still have a