New York
Gojek's GoSend courier drivers plan strike to protest reduced incentives
Drivers of Gojek's delivery arm, GoSend, are planning to refuse orders on Tuesday, according to messages distributed via WhatsApp groups. The protest is in response to the company's plan to cut incentives for deliveries by more than half the current rate.
Yulianto, a GoSend driver and appointed spokesperson for the strike, told KrASIA that the protests will run for three days in Jakarta, Bogor, Depok, Tangerang, Bekasi, and Bandung. Drivers in the area will refuse to take delivery orders. "We will ask large sellers in the respective areas to turn off the GoSend Same Day option, and we will also ask customers not to use the feature," he said.
Around 1,000 GoSend Same Day drivers will participate, Yulianto said. On the first day, aside from refusing orders, drivers will send flower wreaths to Gojek's offices in Kemang, South Jakarta, to express their disappointment, as the planned incentive reduction came just after the company's merger announcement with e-commerce platform Tokopedia.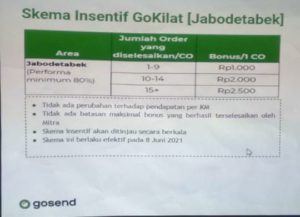 "We [drivers] really hoped that the formation of GoTo would give us a decent livelihood," Yulianto added. "But with this reduction, that hope was shattered." With the protest, the drivers demand