New York
12 Great Ways to Picnic in McCarren Park
Where to go and what to get for a picnic in North Brooklyn.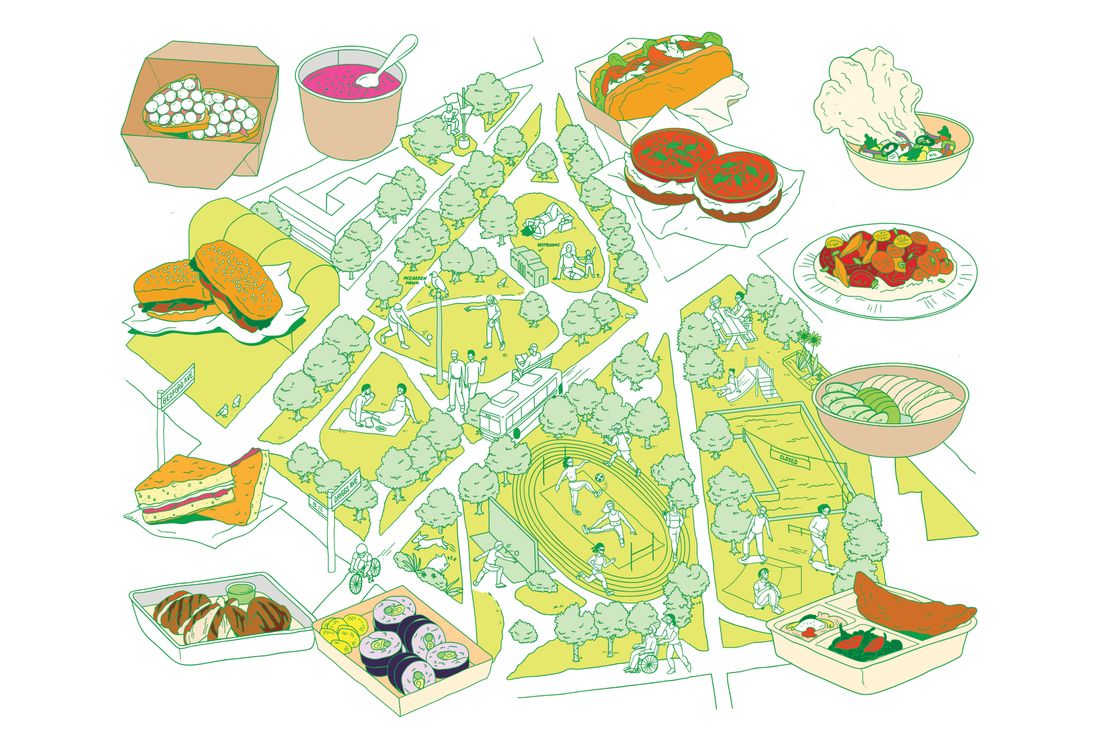 Illustration: Naomi Otsu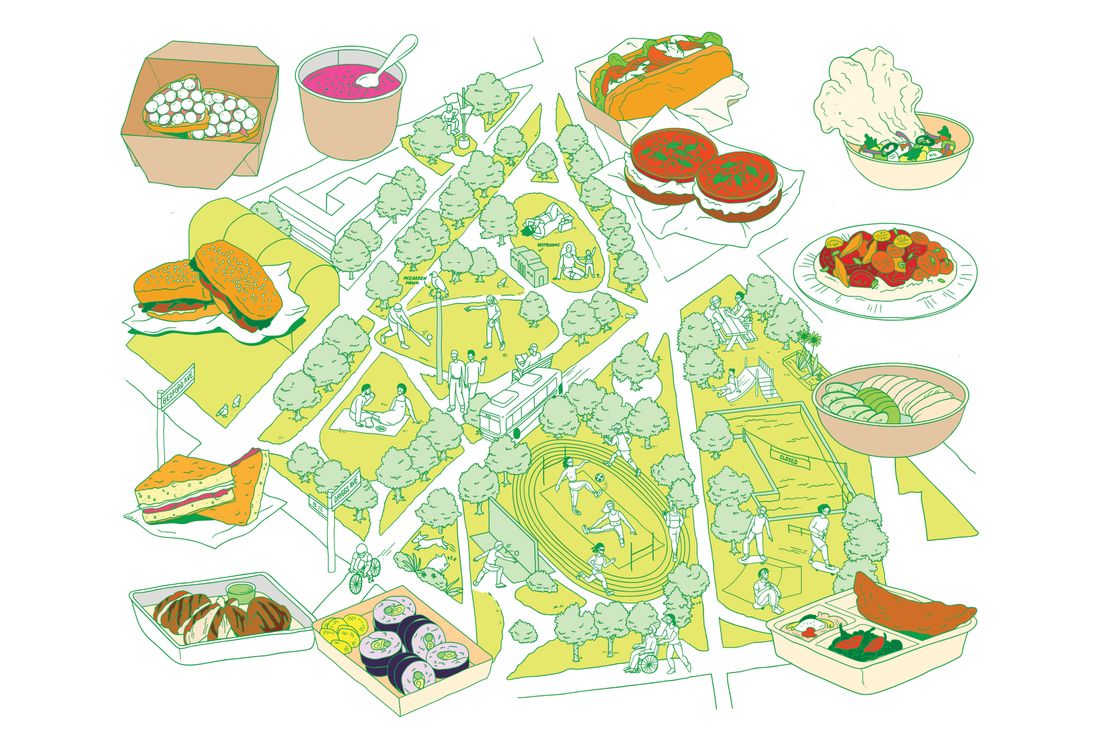 North Brooklyn may be (relatively) blessed with waterside parks, from Schaefer Landing up to Newtown Barge, but none compares to landlocked McCarren Park for square footage, a necessity in this socially distanced age. McCarren, which straddles the borders of the culinarily diverse neighborhoods of Williamsburg and Greenpoint, also has the advantage of centrality and access to restaurants offering a vast array of picnic-friendly fare to go, including everything from Norwegian sweet buns to Polish gazpacho.
Smoked-salmon smørrebrød.
Illustration: Naomi Otsu
1. Bakeri
150 Wythe Ave., nr. N. 8th St.; 718-388-8037
There is no prettier picnic sandwich in the vicinity than Bakeri's smørrebrød-inspired smoked salmon with preserved-lemon labne, radish, and fennel on house-baked sourdough rye. For dessert, get the skolebrød — sweet Norwegian custard buns sprinkled with powdered sugar and shredded coconut and said to resemble the sun shining on a snowy day.
Cold borscht.
Illustration: Naomi Otsu
2. Krolewskie Jadlo
694 Manhattan Ave., nr. Norman Ave.; 718-383-8993
When in Polish Greenpoint, do as the Polish Greenpointers do and bring cold borscht (a.k.a. chlodnik a.k.a. Polish gazpacho) to the picnic. A dose of buttermilk gives the soup its tangy oomph and chopped dill gives it some righteous herbaceousness. Pair it with grilled kielbasa on a brioche bun and shove the accompanying fries into the sandwich.
Lobster roll.
Illustration: Naomi Otsu
3. Five Leaves
18 Bedford Ave., at Lorimer St.; 718-383-5345
Charred shishitos, watermelon gazpacho, cheese boards, corn dogs, and lobster rolls. The super-summery menu combined with a just-across-the-street proximity to the park practically defies you not to unfurl a blanket and have a picnic.
Heirloom-tomato bagel.
Illustration: Naomi Otsu
4. Frankel's Delicatessen & Appetizing
631 Manhattan Ave., at Bedford Ave.
New pandemic rules: Order online, pickup Friday through Sunday from 10 a.m. to 1:30 p.m. So plan accordingly, be prompt, and find four to six like-minded fressers with whom to share the $75 Classic Brunch Kit's half-dozen assorted bagels and accoutrements (cream cheese, whitefish salad, Nova salmon, etc.). Solo brunchers should go for the open-faced heirloom-tomato bagel with scallion cream cheese, herbs, and a heretical drizzle of olive oil.
Shrimp-and-octopus ceviche.
Illustration: Naomi Otsu
5. Baoburg
614 Manhattan Ave., nr. Nassau Ave.; 718-349-0011
Citrus-sour and chile-spiked, ceviche holds a special place in the pantheon of hot-weather foods that simultaneously cool you down and light you on fire. Thai-fusion spot Baoburg's picnic-ready rendition comes loaded with firm but tender shrimp and octopus. Scoop it up with a crispy rice cracker the size of an elephant's ear.
Heirloom-tomato salad.
Illustration: Naomi Otsu
6. Tørst
615 Manhattan Ave., nr. Nassau Ave; 718-389-6034
The menu changes with the micro-seasons, and so do the toppings and trimmings on the burger and the fried-chicken sandwich. But you can always count on beautiful, bountiful salads like a recent heirloom-tomato knockout with peaches and pickled cherries that came dressed in carrot-top pesto and spooned ov