New York
Coronavirus: Hundreds of Polish infections linked to mine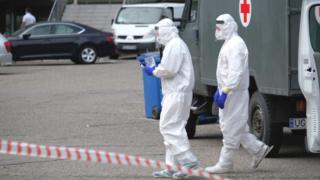 A single coal mine in Poland's Upper Silesia region is behind a record spike in the country's confirmed coronavirus cases, the health ministry says.
Over the weekend 1,151 new infections were recorded nationally.
An outbreak among miners and their families at the Zofiowka colliery in southern Poland accounted for two-thirds of that figure.
The global number of deaths from coronavirus has now passed 400,000. There have been 6.9 million infections.
Poland introduced a strict lockdown early in March, and has avoided the comp