New York
What My Grandfather Saw Photographing the 1919 Typhus Epidemic in Poland
I never saw my paternal grandfather, Joe T. Marshall, hold a camera. It was my mother's father, Fred Spiess, the son of a German immigrant baker in New York City who'd run away at 15 to California, who recorded family outings in Kodak snapshots and Super 8, returned from vacations and business trips to Europe and "the Orient" with packed slide carousels, and bored us silly in two mediums with his after-dinner screenings.
Joe Marshall was a different sort of runaway—a Harvard man, class of 1913, the son of Kansas cornfield wealth. Although the family fortune dwindled even before the Depression, Marshall money carried Joe from Concordia to Cambridge, and then on a grand tour of Japan, the Philippines, India, and Egypt before he settled in Paris for nearly a year of intensive language study after the outbreak of the Great War.
As a Harvard senior, Joe had heard the Bengali Nobelist Rabindrinath Tagore deliver six lectures on "Indian Philosophy in Its Application to Life," and was inspired to scrap his plans for law school in favor of world travel. In August 1914 he wangled an interview, becoming the first American to present himself at Tagore's ashram, Santiniketan, "the abode of peace." That same week Germany invaded Belgium, ending the "Long Peace" that had held for a century in Europe and provoking France and England to declare war in response.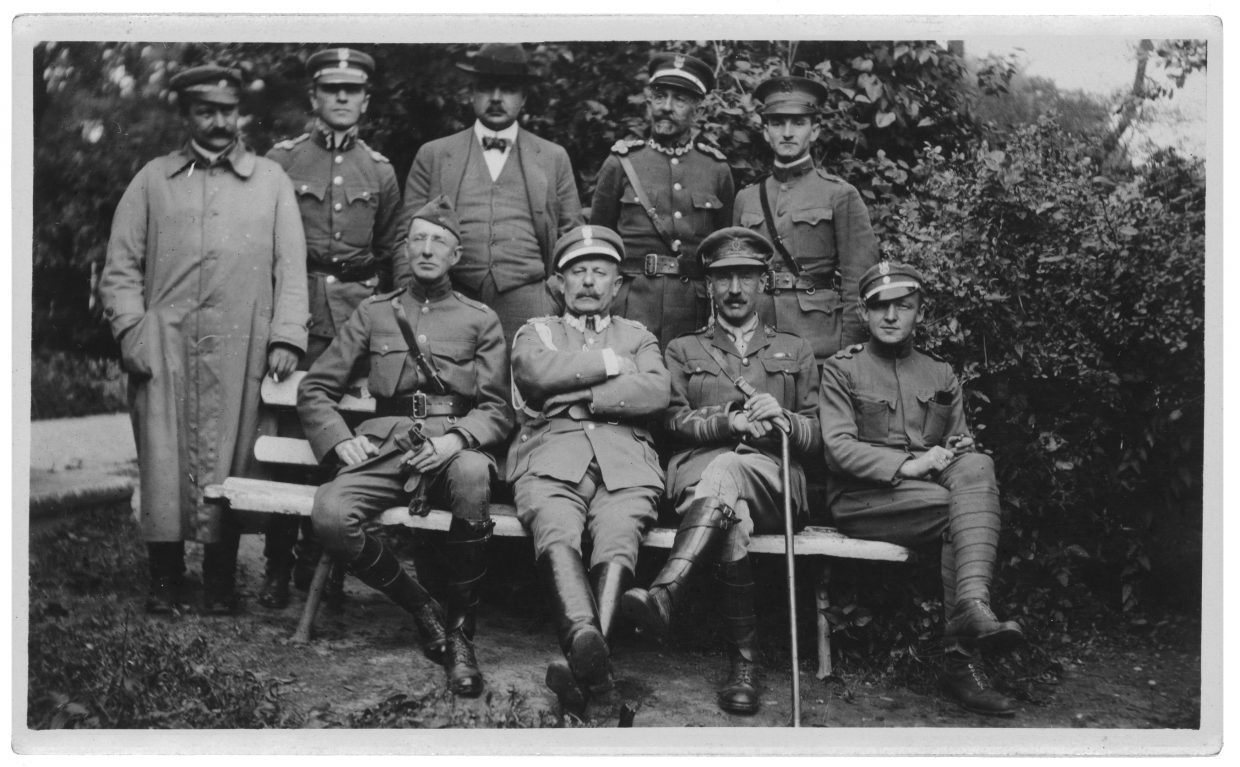 Joe T. Marshall (standing, farthest right) with members of the 1919 Red Cross Inter-Allied Medical Commission, sent to investigate the typhus situation in Poland, and officers of the Polish Army, Poland, 1919. All photos courtesy of Harvard University Archives.
The immediate consequence for Joe was the cancellation of his passage to Egypt on a German steamer no longer welcome in the British-Indian port of Calcutta. There would be greater disruptions to come. "Europe is as the setting sun," Tagore warned as they parted. "It has risen in its greatness and power by unnatural means; and as the sun sinks in a flood of red light, so Europe will sink in a flood of red blood."
Article continues after advertisement
Joe died in 1974, at 85, when I was 20. I'd grown up five miles from my grandparents' Altadena bungalow, but for many of those years he was descending into senility. A tall, formal gentleman, always dressed in gray wool trousers and a button-up sweater in my memory, he seemed a relic of the past. What I knew of his life was related by my father and grandmother; and there hadn't been much to say, embarrassed as they appeared to be by our patriarch's mental decline, a subject that was not discussed.
Joe Marshall's papers reached me decades later at my home on the opposite coast, and I donated them to Harvard University Archives where, during the summer of 2018, I finally made time to read them.
*
Joe wrote countless letters home to his mother—Phenie, short for Josephine—on whom, I quickly gleaned, he relied for advice. "It is my ambition to have you speak more than one foreign language fluently, so that no matter what turn the Wheel takes it will find you capable of catching hold," she'd written in July 1914, encouraging him to stick to his plan of study in Europe even as war threatened. I'd expected letters. But in amongst the handwritten pages I began to find photographs, quite evidently the work of my grandfather.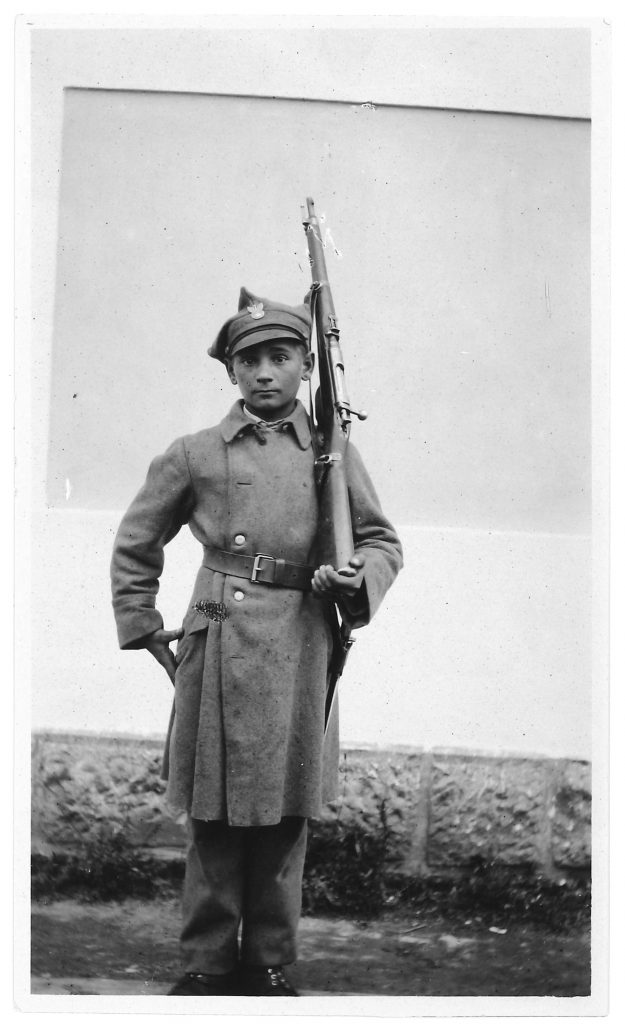 Josef Kwieciński, a fifteen-year-old Polish Army volunteer.
The earliest was a selfie taken in his Harvard dorm. Joe had been pleased with the results, he wrote to Phenie, achieved by "flashlight":the portrait of a young man in pressed wool slacks and dressing gown, lounging a bit stiffly on the window seat with book in hand, typewriter at the ready, and a plaque above the door listing the room's previous residents of note: Andrew Preston Peabody, '26; Henry David Thoreau, '37. But few of the other photos featured Joe.
Article continues after advertisement
No "flashlight" could have helped Joe capture the sweeping nightscapes of aerial warfare he witnessed in Paris during his 1915 year of study.
His aim was to document the places he visited and people he met: families in front of tile- or thatch-roofed dwellings; crowded river boats; a party of well-dressed Americans with whom he traveled on horseback into Luzon, a territory of the Philippines that had "never before been visited by a white man." Joe hated "cold-blooded sight-seeing," and tried his best to travel "understandingly," he wrote home to Phenie. "I call myself 'student' rather than 'tourist.'"
The photos were remarkable simply for their existence, the recordthey bore of unique interactions, of the wonder felt by a 24-year-old fresh from the warm embrace of Harvard and its Glee Club, who sang "The Road to Mandalay" and "Invictus" in the living rooms of the well-to-do hosts he'd met traveling first class, accompanying himself on the piano. Who carried folded in his wallet quotations from Teddy Roosevelt's The Strenuous Life and Tennyson's Idylls of the King, along with lines jotted down during one of Tagore's Harvard lectures: "Love is not mere sentiment; it is truth; it is the joy which is the foundation of creation." Whose mother sent him a news clipping advising, "The world belongs to him who has seen it."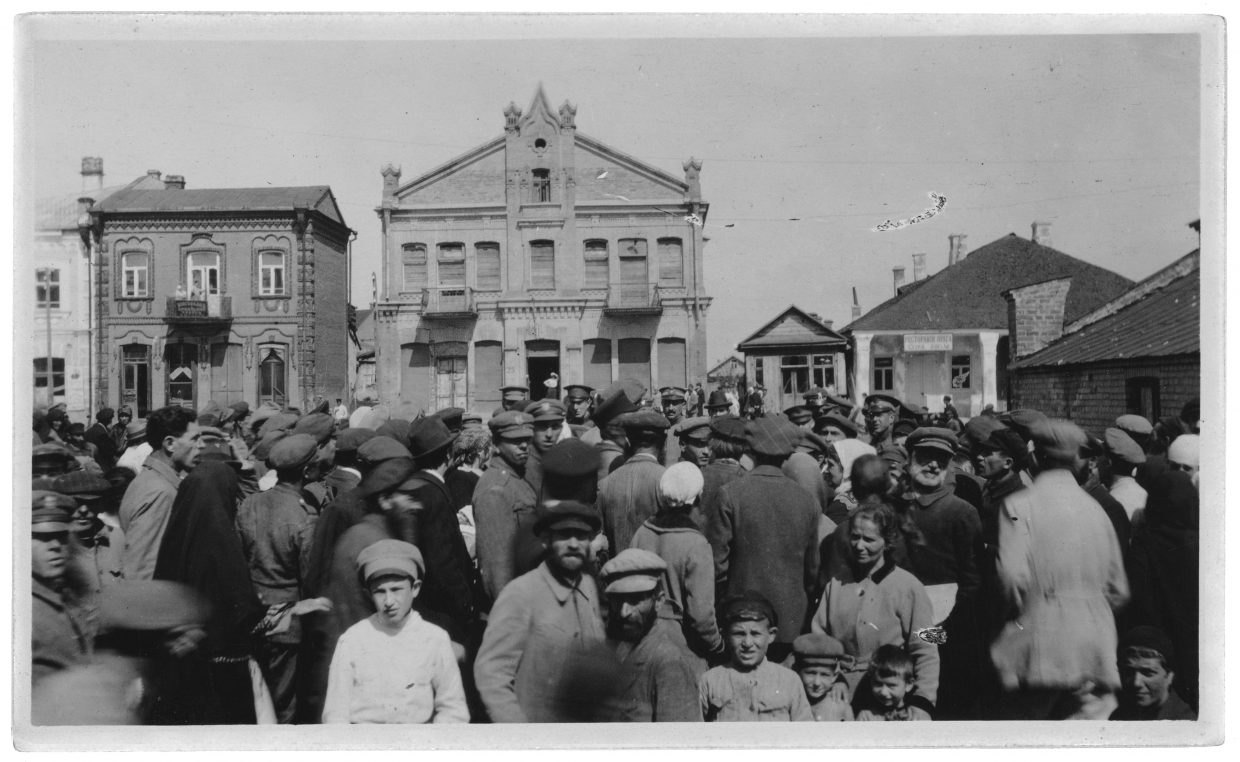 A marketplace at Dubno.
And then, as I paged through the letters describing wartime Paris and Joe's regimen of classes in the spring and summer of 1915, there were no more. Not until a handful of images dated 1918, and an intriguing box filled with what appeared to be snapshots from the waning summer weeks of 1919.
*
No "flashlight" could have helped Joe capture the sweeping nightscapes of aerial warfare he witnessed in Paris during his 1915 year of study, though he wrote home of one dark night when he stood with a crowd of neighbors on a street corner and watched as two German Zeppelins dropped "about 40 bombs" on the city's outskirts, a sight that to him seemed almost beautiful: "the ghostly looking Zeppelins, the noise of the cannons, the bursting shells, the graceful flight of the airplanes, and the searchlights flashing all around." He ended his studies soon after and returned home determined finally to "take