Fakty Miami



JAKARTA, Mar 5, 2022 – (ACN Newswire) –

President Joko Widodo (Jokowi) has given a period of one to two years for state-owned enterprises (SOEs) to make fundamental changes to increase their competitiveness.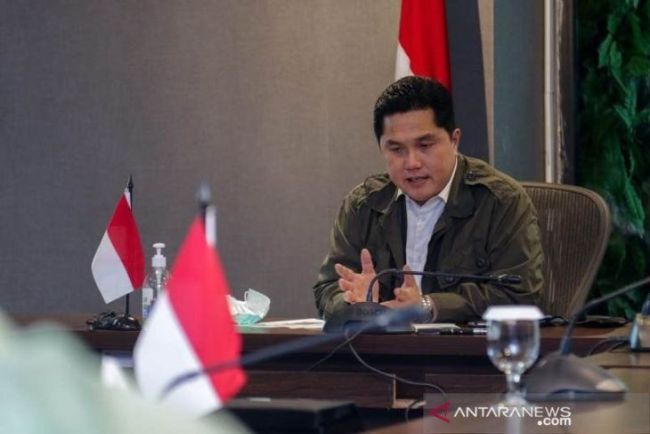 SOEs Minister Erick Thohir (ANTARA/HO-Kementerian BUMN/pri)
On October 14, 2021, Jokowi stated that he was pleased to witness the clustering of container terminal operator and port development firm Pelindo into one holding, which was PT Pelabuhan Indonesia, to cuts logistics costs and helps improve connectivity throughout Indonesia.
According to Jokowi, the clustering forms into one great power, as it builds networking with partnerships abroad. "Through partnering with overseas companies who have networks, the (SOEs') link to all countries can become a huge power," the president remarked.
Through clustering, SOE companies have shown above-standard or even excellent work performance that has contributed significantly to the state budget.
According to data from the National Development Planning Board (Bappenas) in 2019, the estimated total budget for infrastructure development in the period of 2020-2024 was US$447 million or Rp6,445 trillion, and 21 percent of them came from or supported by SOEs.
In the third quarter of 2021, the total assets of SOEs reached some US$610.5 million or Rp8,767 trillion, equivalent to some 57 percent of Indonesia's GDP.
Moreover, in January – September 2021, the total consolidated revenues were closed at Rp1,613 trillion, or grew 14% compared to the same period in 2020.
One of the efforts to enhance state firms' performances is through clustering and restructuring.
Clustering efforts have been accomplished by reducing the number of SOEs from 107 to 41, and sector clustering from 27 to 12, where two deputy ministers each oversee six clusters.
Currently, there are 12 sectors that 41 SOEs engage in: energy, oil, and gas; mineral and coal; insurance and pension funds services; plantations and forestry; and telecommunications and media.
Additional industries include the food and fertilizer industry, tourism and supporting services, health industry, manufacturing industry, infrastructure, logistics, and financial services.
On February 18, 2022, SOEs Minister Erick Thohir